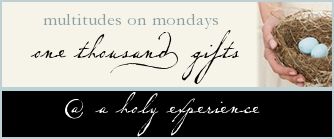 I'm counting gifts of grace again. I decided to start counting again from #1 in 2012,
taking
Ann's Joy Dare
-to count 1,000 gifts of grace this year.
I scratch down a list of 5 gifts (or more) each morning as I write in my journal; some simple, some sweet, some that only I understand to be gift.
But when all is grace, all is also gift- no matter how mundane or messy.
Real life, real love
- these are priceless gifts.
Here are a few random graces jotted down in my journal for the first days of February:
#161 glorious sunny winter's day
#162 boxes of books- dusty treasures for the library (a gift from a pastor friend, so many books!)
#171 green tea in my favorite cup
#172 soft breeze making music with the wind chimes
#175 first light
#177 middlest Love driving the lawn mower and feeling quite proud of herself
#180 a few hours of quiet solitude on a Sabbath evening
Simple, daily joys ... gifts from our Good God.

What gifts are you finding these days?