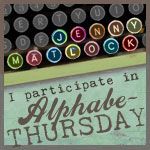 Hello
there!
OK ... so we are at the letter H in the
Alphabe-THURSDAY
game, and I'm just now jumping in.
Where have I been?
Well, let's see ...
A
bsent (mostly absentminded if I'm honest)
B
usy
C
leaning up the
D
ebris and
E
ver growing piles of
F
allen leaves and dead plants in the
G
arden.
How's that for make up work, Mrs. M???
For
today's
letter H, how about my latest herbal concoction?
It is very simple to stir together and you can make many variations ... Peppermint Rose is another favorite of mine; but since we are featuring H this week, let's make
Herbal Blossoms Bath Tea
(There is supposed to be a photo of my lovely bath tea bags here ... and just maybe I'll get that inserted later after much prayer, weeping, and gnashing of teeth; but it just may not happen and in that case, please use your imagination ... picture a large tea bag filled with beautiful herb blossoms ... yes, just like that!)
This recipe uses the simpler's method of measuring in parts rather than a set measurement. That works well because you might just want to make 1 bath tea, and to do that you could use a heaping Tablespoon of each of the dried herbs. I made up about a dozen large bath tea bags, and used a 1/2 pint jar for measuring the herbs. Adjust the amount of essential oils accordingly. For a small batch, use only a drop or two, more for a larger batch. Or, leave them out altogether and enjoy the light fragrance of just the herbs themselves.
Mix together:
1 part dried rose petals
1 part dried lavender blossoms
1 part dried calendula petals
1 part dried chamomile flowers
6 drops lavender essential oil (more or less depending on size of your batch of tea)
6 drops rose essential oil
Divide and put mixture into Press 'N Brew tea bags and seal with an iron, or place desired amount in small muslin bags, tie it up in a piece of cheesecloth, put it in a tea ball ... whatever; just get it into a tub of warm water and enjoy steeping in a bath of tub tea!
And speaking of herbs, I am just getting settled in a new spot to write about all things herbal ....
Still Room Herbs
. I'd love it if you'd drop by sometime!
For more fun with the letter H, visit
Jenny Matlock
today!