Xanthium, more commonly known as cocklebur.
(photo credit: Clarence A. Rechenthin @ USDA-NRCS PLANTS Database)
Yes, at least one type of this pesky weed is considered an herb, used medicinally, and is a common ingredient in Chinese medicines. The fruit of Xanthium strumarium is said to be pleasant-tasting (I think I'll take their word for it, no tasting a cocklebur fruit for me, thank you very much.), warming (no need for warming these days either), and relieves pain, relaxes spasms, and also has antibacterial, antifungal, and antirheumatic effects (this according to the Encyclopedia of Herbs and Their Uses by Deni Bown).
So, perhaps the next time you go for a hike and get cockleburs stuck in your shoelaces (at least that's what happens to me), you will at least know that they do have some good purpose on the earth. Really.
(photo credit: Steve Hurst @ USDA-NRCS PLANTS Database)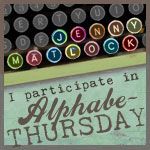 Please visit
Jenny Matlock
today for more Alphabe-Thursday fun with the letter X!