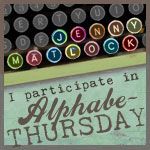 Umbelliferae.
How's that for an
unusual U
word?
Umbelliferae
is the name of a family of plants, which includes herbs such as: dill, chervil, cicely, lovage, Queen Anne's lace, and others. These plants have flower heads that are in an
umbrellaish
(my own u word) shape called
umbels
.
The most interesting tidbit I discovered about the
Umbelliferae
family is that almost all of these plants are good companion plants in the garden. The tiny flowers in their
umbels
attract ladybugs and other good bugs to your garden, which is a very
useful
trait.
OK, so it's a stretch, but the only herb I could think of that begins with
u, Uva Ursi
(though I prefer the Native American name- Kinnikinnick) is used for treating
urinary
(another u for me) tract infections, which is very
unpleasant
or maybe
uncomfortable
, to even think about. However, it is good information to have if you are
unfortunate
enough to need it. To learn more about
Uva Ursi
click here
.
So, you might want to plant some garden helpers from the
Umbelliferae
family, and maybe some
Uva Ursi
, too!
That's it for the letter
U
here at Love Living Simply.
Until
next time, visit
Jenny Matlock
for more Alphabe-Thursday fun!