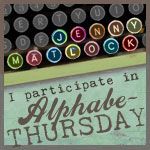 Sage.
Sage
or
salvia
is an herb that has many varieties, from regular culinary sage that is the primary seasoning for holiday stuffings and such, to a whole host of others like:
Russian sage
(gorgeous purple flowering plant),
Clary sage
(another pretty herb, and one used in a variety of ways )
and my own personal favorite-
Pineapple sage
(lovely pineapple fragrance with pretty red blossoms).
Since I'm running rather short on time, I'll leave you with a link to some great info. and recipes for Pineapple sage at
The Essential Herbal
(Lots of good reading there my friends, enjoy your visit!)
And if you'd like to learn more about sage in general, check out the info. at
Botanical.com
. No wonder they call it salvia! (and I did discover by accident that now the druggies have discovered their own use for one variety of salvia ... idiots.)
OK, that's it for this week's Alphabe-Thursday here, but for more sensational S posts, visit
Jenny Matlock
today!