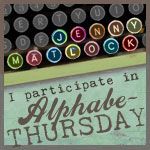 Quickly popping in to play Alphabe-Thursday!
Sorry I was absent last week Mrs. Matlock, I had a good reason, really I did ... but I can't remember what it is now ... I've slept since then!
OH, it was my internet connection
... yes, now I remember I spent most of my time from Weds. thru Friday trying to talk to a human (rather than that nasty computer man) about my lack of an internet connection (sigh).
OK... So I'll just combine Q and R in one to make up for last week!
Q and R are for ...
Queen of Hungary's Water
and Rosemary Squares.
Click the link above to learn how to make Queen of Hungary's Water, which is said to be powerful stuff. Legend has it that the elderly queen who made this famous was so lovely even in her old age that a young man proposed to her ... (Well...you don't need
my opinion
on his possible motivation, I'm sure). Try the recipe anyway ... who knows what may happen ... nice skin most likely!
I'll post the recipe for Rosemary Squares below because my other blog host is upgrading (which is another reason I don't have much time here these days) and my blog where the recipe is posted is rather funky right now because I keep messing with things.
So, here you go, a simple recipe that is yummmmmy!
Rosemary Squares
Ingredients:
2 eggs, beaten
1 cup brown sugar (or your choice of alternatives)
2 t. vanilla
1 cup flour (I like whole wheat)
1/2 tsp salt
1 tsp baking powder
1/2 tsp rosemary (more if you really like it)
2/3 cup pecans (or other nuts)
1 cup dried fruit (I use raisins mostly)
Beat eggs, add sugar gradually. Stir in vanilla. Sift together flour, salt and baking powder. Add flour mixture to eggs and sugar. Stir in Rosemary, pecans and fruit.
Bake in greased and floured 8×8 pan at 350 for 30 minutes.
Remove from pan while warm, cool and cut into squares.
Enjoy!
For more, probably more coherent, Alphabe-Thursday posts, visit
Jenny Matlock
today!