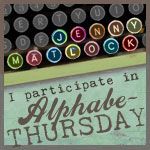 Poppy
and
Plantain.
Poppies are so pretty, every garden should have a few.
This is a poppy that I grew a few years ago from some seed shared by a friend. Not the best specimen, but a poppy nonetheless.
I plan to plant breadseed poppies in the garden this fall, along with my favorites- Tasha Tudor Lettuce Leaf Poppies, they are a lovely pink color and just beautiful. I was sad to see that the seed is no longer offered on the website ... I suppose her family members aren't gardeners. Nevertheless, there are many types of poppy seeds to be found. Check out all the varieties at
Botanical Interests
! If you like unusual plants, you might like this
Himalayan Blue Poppy
from Seedsavers Exchange. I'm tempted to try growing it, though it says it prefers cool climates, which mine is definitely not! Early May and 90's already ... (sigh).
Poppy seed is used in many delicious treats such as
Poppy Seed Kolaches
. I still remember eating these in the kitchen of my best friend's grandmother when I was in school (and that was a loonngg time ago)... they were delicious, and someday I'll try making them myself.
Poppy Seed Muffins
are a quick snack or breakfast, as are these
Lemon Poppy Seed Cookies
(And yes, I
do
sometimes have cookies and tea for breakfast ... don't tell the children, though!)
OK, if you are wondering about herbs ... skip the opium poppies please, and go out in your yard and find some Plantain.
Yes, this weed is really a very helpful herb.
Plantain is very high in vitamins A and C and in calcium. Young leaves make a nice addition to your salad, or put a few on a sandwich. Plantain leaves are used to relieve the torture of poison ivy and other itchy rashes, soothe the pain of bee stings and insect bites, and promote healing of sores and bruising. You can crush the leaves to make a poultice, or plan ahead and make some plantain salve to have on hand when you need it.
OK, that's it for this edition of Alphabe-Thursday ... I'm ready for tea and cookies!