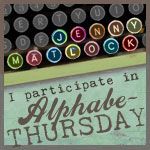 Oh
is it Thursday already?!?
Springtime has me busy, busy and the days seem to be flying by. Nevertheless, I must take a few minutes to play along with my Alphabe-Thursday friends.
So ...
O is forOreganoOrange Mintand Orange Marmalade!Oregano
, while being a common culinary herb, isn't one of my favorites. I don't much care for the strong flavor of
oregano
, and use marjoram instead most of the time. But, it is a pretty herb, good for italian dishes (if you like the taste), and even used for treating colds, flus, and other illnesses in some places, so you might like to give growing it a try. I do like
Mexican
Oregano
, which is not a true
origanum.
That might explain why I like the taste better. It makes tortilla soup taste wonderful, and livens up a pot of beans or turkey chili like nothing else. I've not had great luck growing it, but fortunately in Texas, it is easy to purchase dried in most grocery stores.
Orange Mint
is a beautiful variety of mint, with dark green, rounded leaves. It doesn't seem to be as wildly invasive as some of the other mints, but I would still keep it confined. It is nice added to the sun tea jar, minced and added to fruit salads, and so forth.
And last on my short list today is
Orange Marmalade
... yum! I saw an Alphabe-Thursday post from Red Couch Recipes titled
Orange Marmalade Cake
... I'll be making that one soon!
I have another
orange
marmalade recipe to try
Orange Marmalade Bars
. They look very tasty, though I know I'll have to do some tweaking to this one. Looks like Kitchen Adventure time again! I will definitely replace the shortening with butter, substitute honey or sucanat for the white sugar, and take out the almond flavoring. I'll post my version once I have it just right.
OK
... that's it for me this week, I need to get
outside
and rake more leaves for mulching the garden before it rains. Tonight I'll be saying
Oh
my aching back!
Please visit Jenny Matlock for more
Alphabe-Thursday
fun!