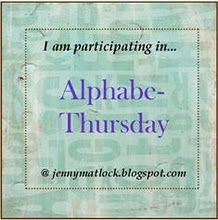 you know what I'm going to say, don't you? ...
Herbs!
Herbs are
helpful
,
healthful
, and make me very, very
happy
!
Here are a few of my favorite
H herbs
...
Hawthorn
- helps keep the
heart healthy
.
Horsetail
- excellent herb for your
hairhorsetail=healthy hair
(I should get extra credit for including math in my ABC post, don't you think PJ?)
Hibiscus flower
- gorgeous red flowers and this is what gives the Zing to those Zinger teas.
Hyssop
- Bees love Hyssop, so plant some in your herb garden to attract buzzy bees for good pollination.
Horehound
- OK, does this name give you weird visual images (or is it just me...my brain works in weird ways my husband says) ... anyway horehound is good for
hacking
and coughing and often used in herbal cough remedies, which I could have used this past week.
Holy Basil
- I love basil- sweet basil, lemon basil, purple basil, lettuce leaf basil ... Holy basil is one I've not grown before; but since I've read all of the things it helps with, I think I'll add holy to my basil line-up!
OK... those are some helpful herbs for you to try.
Now for one of my favorite flowers that also begins with H-
Helianthus
, otherwise known as sunflower! Sunflowers make me happy, how about you?
And one last flower for the letter
H
...
Hollyhock
- great for an old-fashioned cottage garden ... or for discreetly marking the spot where ladies might find the outhouse! Seriously, they used to plant hollyhocks by the outhouse so people wouldn't have to ask ... just look for the hollyhocks and that's where the potty goes...maybe that's why they grew so tall...
I hope you enjoyed this week's
Helpful Healthful Happy Herbs
post.
For more
Alphabe-Thursday
fun with the letter
H
, visit Jenny Matlock today!