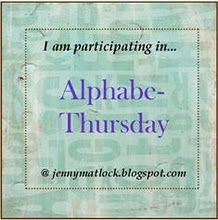 Dandelion
Daisy
Dill
and ...
Digitalis
(commonly known as Foxglove, but then that would be an F word ... and well, that's for another week ... OK? ...!)
Digitalis
.
I really love these
D
plants and grow them all in my garden.
Yes, even
Dandelion
, though it has a bad reputation as being a "weed", it is really a very helpful herb. It is full of good for you things like iron, vitamin C, vitamin A ... so be nice to those Dandelions, OK? Pick the leaves and add them to a salad, cook them up in a stir fry, etc. I've even read about making Dandelion wine, but I don't know that I'll ever gather
that
many of those little yellow flowers, it takes
lots
; but I do put Dandelion flowers into my jar of sun tea!
In my family they are called "Wishflowers" because you simply must make a wish and blow those little puffballs of seeds away whenever you see one. For more info. on Dandelion,
click here
.
Daisies
are just sweet, simple flowers and my favorite kind to buy as cut flowers because they last a long, long time. Shasta daisies are my favorite and are fairly easy to grow.
Dill
, is a yummy herb, and sort of like Dandelion ... once it is growing in your garden, you won't have to worry about replanting, it will happily do that itself! Caterpillars love Dill also, so you may find yourself with some hungry, hungry critters munching your Dill plants.
Digitalis
is such a beautiful flower, it ranks high on my list of favorites. I do add a word of caution about Digitalis however for those who have children playing near the garden ... Digitalis can be
deadly
if consumed! I never grew this plant until my children were old enough to fully understand the meaning of
"Do not even think about touching those plants!".
So, I suppose we should add
dangerous
to Digitalis as well. If you'd like to read more about Digitalis,
click here
.

(a Digitalis from one of my gardens ...please ignore that pesky grass!)
OK, that's it from me in today's round of
Alphabe-Thursday
.
Don't
miss out on the fun, visit
Jenny Matlock
today to read other
Delightful dissertations
featuring the Letter
D
!